1.Car Quick Lifts is advanced in technology and simple in operation; our company's R&D personnel have devoted a lot of efforts to the products, from mechanical control to fault warning display, intelligent human-machine interface.

| | | | |
| --- | --- | --- | --- |
| Model No | L-520E | Supply Voltage | AC220V |
| Frame spread length | 1746mm | Mini Height | 88mm |
| Frame Length | 1468mm | Max.Lifting Height | 460mm |
| Max.Lifting Capacity | 2500kg | Single side width of lifting frame | 315mm |
| Single frame weight | 39kg | Power unit weight | 20kg |
| rising/lowing time | 20~30sec | oil tank capacity | 4L |
2. Long service life; because there is no multi-point hinge wear, the force is good, and the average service life is more than ten years.
3. The carrying capacity is large; the car size can be designed more than the customer's requirements.
4. The amount of sinking is less than the international standard; the valve body leaks and the air compresses in the hydraulic oil, and the Car Quick Lifts will sink when they are heavy and heavy. The national standard regards the amount of sinking as an important indicator for measuring the eligibility of elevators. After years of practical research, our company has solved the problem of sinking the industry for many years.

Company Information:
Yantai Tonghe Precision Industry Co.,Ltd was founded in 2007, Equipped with over 100 sets of advanced manufacturing equipments and precision inspection instruments, Yantai Tonghe dedicates in the design & development, manufacturing and services of inground lifts, hydraulic cylinder and hydraulic control system. The annual production capacity in inground car lifts reaches 10,000 sets, specialized high pressure oil cylinders reaches 40,000 pieces and hydraulic control system reaches 10,000 sets. The products are mainly car jack lift, Quick Lift, Inground Lift, etc. Our products are widely applied in Automotive Industry, Vehicle maintenance, Construction machinery etc.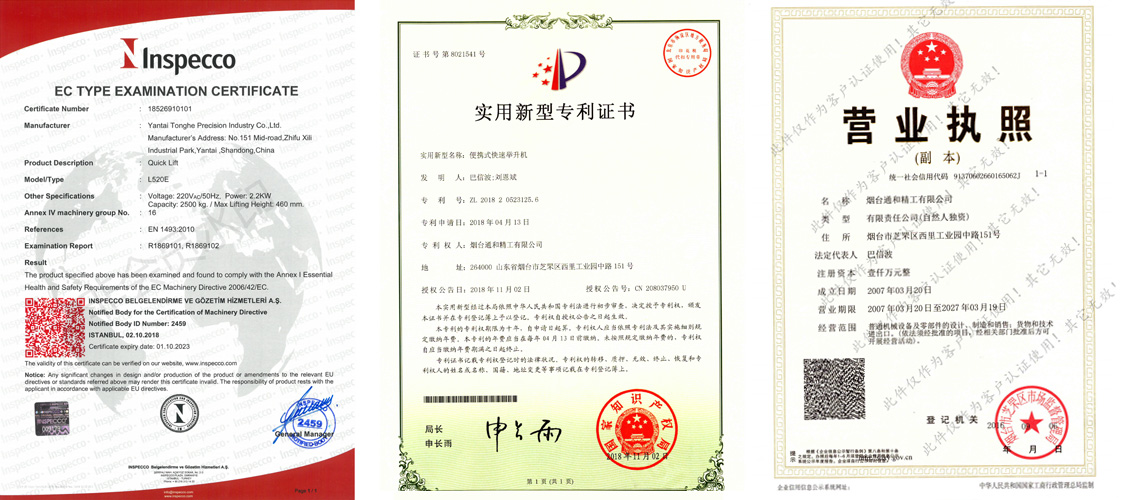 Companies keep the direction of "professional, standards ,innovation", guided by technological innovation, quality assurance as a guarantee, to provide users with safe, accurate and efficient standardized products, personalized customization.
FAQ:
1.What kind of vehicles can LUXMAIN quick lift be lifted?
The quick lift is suitable for vehicles with a wheelbase between 2400mm and 3000mm, which includes most A and B class vehicles and some C-class vehicles.
2.What is the maximum lifting weight of LUXMAIN Quick Lift?
Depending on the type of product, the maximum lifting weight of Quick Lift can be within 2.5t or within 3.5t. This figure also covers most of the daily use vehicles.
3.Can the power supply of LUXMAIN Quick Lift be 110V or 380V?
The 110V power supply can be realized by supporting the corresponding 110V power unit; for safety, the 380V power supply is not recommended.
By changing the power outlet, it can adapt to the power interface standards of all countries in the world.
4.What is the weight of Luxmain Quick Lift?
The single-sided lifting frame weighs approximately 42kg and is equipped with a roller that can be dragged or translated. The power unit is about 23kg.
5.What is the warranty of Luxmain Quick Lift ?
One year
6.Is Luxmain quick lift waterproof,dustproof,corrosion resistant?
It has excellent waterproof,dustproof,corrosion resistance, and the lift can even reach the level of "bubble water", which can adapt to work in muddy and humid environment for a long time.